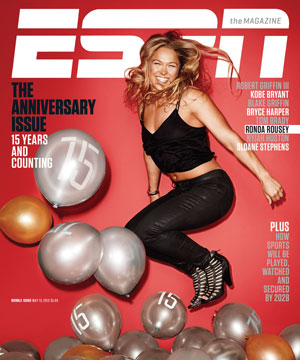 No surprise: LeBron, who reportedly has won his fourth MVP, made the list.
Influence is difficult to quantify. It's not strictly about power, and it's not necessarily all about impact. Yet both are needed for one to have influence over others. It's not only about fame, fortune, notoriety, reverence, respect, how many followers one has, whether someone is trending, someone's Q rating or overall hotness.
In honor of Time recently putting out its annual list of the "100 Most Influential People in the World", we decided to look at influence through the lenses of different sports and see who right now has the most direct, inspiring and prominent role in shaping sports and the lives connected to the games we play.
The following is a forward-looking list: eleven of the most influential people, businesses, entities and brands in sports. A list of the people in sports who not only are making epic moves but also are moving us.
LeBron James: How long does it take for one to become (or predict that one day he soon will be) a "global icon"? Since the day LeBron let those words slip out of his mouth, he has been on a path to make himself out to be more than a prophet. Is he an Icon? Has he reached "global" status? Yes. And hell yes. And now that he has become sport's equal to Jay-Z, wherein every kid black, white, Hispanic, Asian or plaid stays connected to everything he does, it's going to be interesting to see what he does as an encore before his show even ends.
Frank Wren: He listened to cries of complaints and concern and looked at the fact that his team, the Atlanta Braves, was sitting in the heart of what has become openly known as Black, USA. Wren, as the team's GM, knows the true power baseball can have, he knows the history of its social and societal impact. He knows "42" is not just a movie. Now most people will think that Wren's decision to sign both Justin and BJ Upton in the offseason was a masterful baseball and marketing move. Those people would be getting only part of the point. They should watch how the Uptons' success in Atlanta correlates with an upswing in American minorities becoming more interested in baseball.
Bill Belichick: When a coach has equal-to-more power than the commissioner (note: There is a distinct difference between position and power) and the commissioner is still one of the most powerful men in sports, you know where true influence resides in the NFL. In the past decade, the New England Patriots' coach has run a football franchise like a Fortune 500 company. Which is why, in the past decade, Fortune 500 companies have used the Pats as a business model for success. Not only do corporate CEOs want to be like Belichick (sans hoodie), but almost every player wants to either play for him or learn from him and almost every coach wants to either coach under him or be him. Everyone else fears him.
RG III: As great as Robert Griffin III is and has the potential to become in the next few years, and as many Subway, adidas, Gatorade, Nissan and EA Sports commercials as he's going to do in that same period of time, nothing is going to compare to the overall effect what RG III stands for is going to have and the impression it will eventually leave. He will be the one to make the subject of being a "black quarterback" obsolete — finally. To the generation that is now falling in love with the game of football, RG III will be the norm: its Tom Brady, its Joe Montana, its John Elway. When the image and play of the prototypical QB comes up in conversation, it soon will be RG III's name, face and style that will come up first.
Eric Avar/Leo Chang/Jason Petrie: It's been a while (probably not since Converse simultaneously marketed Larry Bird's, Magic Johnson's and Julius Erving's signature sneakers) since any sneaker designers not named Tinker Hatfield put a lock on the game the way Avar, Chang and Petrie did last year. As designers of LeBron's LeBron X, Kevin Durant's KD V and Kobe Bryant's Kobe System 8, they hit a trifecta in sales, interest and impact that equaled and often surpassed the standard frenzy that accompanies the release of OG and retro Jordans. The three of them triple-handedly re-energized the basketball shoe market. And more than likely, for the next 10 years, they will shape the direction the sneaker culture will follow. And being James', Durant's and Bryant's right-hand people won't hurt, either.
Bill Simmons: We all know there's no way to honestly do a "list of influence" and not include Simmons. In the past decade, there hasn't been anyone who has used the media to influence sports the way "The Sports Guy" has. Millions of followers don't tell the story. Grantland doesn't tell the story. New York Times best-selling books don't tell the story. His reach has gone — and continues to go — so beyond any of that. Some people force you to bend, break, ignore the rules. Simmons simply forces people to challenge them.
Ronda Rousey: The recent ESPN The Magazine cover is just a warning shot. Rousey's reach goes way past being sports' new "it" girl or the fact that she, Holly Holm, Cat Zingano and Miesha Tate are about to "Title IX" mixed martial arts. She is the perfect package (athleticism, looks, personality, honesty) to carry a woman's sport into a new level of non-gender-specific acceptability. Young girls by the generation are going to want to be the next her, and mothers won't have a problem with it and fathers won't be afraid for their daughters. Putting Rousey in position to do something that not even Laila Ali could do for women's boxing: make society look at an entire sport differently.
EA Sports: Its "It's In The Game" tagline at this point should be changed to "EA Sports: It Is The Game." No professional (or amateur) sport — not even soccer on the global stage — has had the gravitational pull in the past two decades that EA Sports has had as a company. Not even Nike. EA has turned electronic sports into something much more than a religion thanks to the fact that it crosses all sports denominations and turns people into addicts. It develops games and programs for want and for need. All EA needs to do now is create its own personal Vegas. Find some open and unused land, claim it as EA's and watch what happens. It sounds crazy and far-fetched, but even with staff cuts and Tiger's game missing a season, people are so addicted to their games that EA could create its own city and fans would rush to move in. What's the "Fields of Dreams" law? If EA builds it, we all will come.
Jason Collins: "Encourage others to have an honest and genuine life." Collins said that is what he hoped to get out of being the first athlete in one of the men's big four pro team sports in America to publicly admit that he is gay. Now, will he be the Jackie Robinson or Billie Jean King of a generation? Probably not. His stature and résumé as a player doesn't match King's and Robinson's when they became the focal point of change, acceptance and inclusion in sports. But even without the HOF career, Collins will be the active player who took it upon himself to take the first hit. So although Collins might never be the BJK or Jackie Robinson of his time, he might turn out to be the Ellen DeGeneres of sports: The game was never the same once someone in it came out.
Hollywood (Specifically "Moneyball" and "The Blind Side"): It can't just be a coincidence that, not long after "Moneyball," the Memphis Grizzlies hired a stats guru (John Hollinger from ESPN.com) to be their vice president of basketball operations, right? And it can't be just a coincidence that, not long after "The Blind Side" (and after the Ravens won the Super Bowl with Michael Oher, the subject of the film, playing) three of the top four picks in the NFL draft were offensive tackles, no? They say great scripts make great movies, but team owners and GMs can't be basing executive decisions on the fictionalized outcomes of true-to-life films that happen to be sports-related. Hollywood can't be that influential, can it?
Neymar: Because at some point every kid in every corner of the world (with the exception of the few holdout corners of America, of course) who is playing soccer wants to be Neymar da Silva Santos Junior. He is the follow-up of global influence from Brazil that Pele, Ronaldinho and Ronaldo once were. Not the best player in the world yet (the title belongs to Argentina's Lionel Messi), Neymar right now, leading into the 2014 World Cup in Brazil, is the beautiful sport's future more than its right now. It's like this: Take all of the kids playing basketball — from the 10-year-old in the neighbor's backyard to 14-year-old phenom Seventh Woods — who are influenced by and want to be LeBron. Now change the country from America to Brazil, change the sport from hoops to futbol, then multiply that number of people by, say, 1,000. Maybe 2,000. Maybe 3,000. That's Neymar.